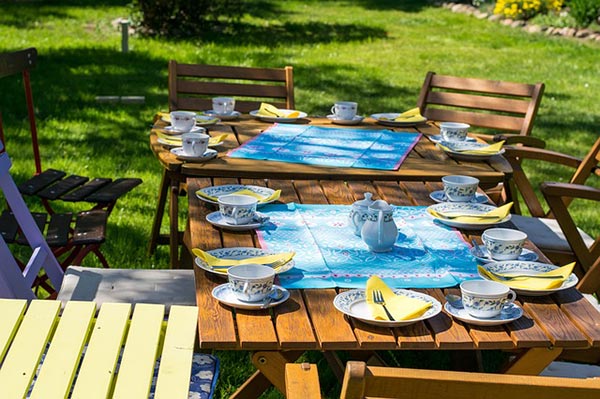 Getting everyone together outside lends a relaxed air. Expectations are lower, the natural beauty of your yard does most of the decorating work and if things get really messy, a hose handles cleanup. Are you ready to take advantage of the summer season and move your next party into the fresh air? Here are five outdoor entertaining tips that will help you get started.
1. Create an outdoor kitchen
Even if you already have a kitchen set up outside, you may benefit from making things easier to access during your party. Start by bringing a cabinet, a trunk or another storage piece outside. If you plan to host throughout the season but don't want your furniture to get damaged by the elements, consider flipping it over and adding some casters.
Once your outdoor storage is ready, fill it with everything you'll need. Plastic dishware and cloth napkins are a great start. Think through your previous parties. What did you find yourself often grabbing for? (A bottle opener, perhaps?) Having these necessities easily accessible outside will give you more time to enjoy your event.
2. Celebrate variety
The relaxed air of an outdoor party encourages playfulness in your decor. Say, for example, you're hosting more people than you can seat with your outdoor chairs. Bring your indoor chairs outside and intermix them. The variety looks fun and inviting.
What other indoor items could be useful? Pull throws off your couch and drape them over chairs outside for guests to use if they get chilly. Choose decor from your coffee table and mix it with fresh-cut flowers for an interesting centerpiece. Don't be afraid to play with items you already own. The beauty of an outdoor party is in the way otherwise-stressful details become unimportant.
3. Be prepared for wind
Summer nights can get breezy. Getting ready for wind is one of the best outdoor entertaining tips we can offer, because it can prevent something out of your control – the weather – from ruining the whole night. The week before your party, make a mental list of anything that could blow away. Solutions are generally simple: like, for example, buying or making tablecloth weights that clip to the corners of a tablecloth. You should have no trouble finding a product or DIY project that matches the decor of your party.
Too pressed for time? Skip the tablecloth altogether!
If you're going to be lighting candles, make sure you protect them from the wind. Hurricanes and tea light holders are an affordable way to maintain your lighting on a breezy evening.
4. Keep pests away
Candles can serve a dual purpose, beyond adding ambiance: They can also help fend off mosquitos. You don't have to choose citronella varieties, either; pests also hate eucalyptus. If you're feeling crafty, you can even make your own bug-deterring candles. This DIY uses both citronella and eucalyptus to banish mosquitos.
If you're going to be serving food outdoors buffet-style, have a plan in place to cover it when people aren't actively serving themselves. In a pinch, an overturned mesh colander can serve as a protective shield.
5. Prep your grill
Don't wait until the day before your party to grab propane and scrub your grill grate. You can even season your grill grate the way you would a cast iron pan to avoid rust.
As you get your grill ready, make it safe. Move it at least 10 feet away from your home, outdoor structures and any trees or bushes. If you own a gas grill, perform a quick and easy test with soapy water to identify any leaks. Taking the time to get your grill ready before you fire it up gives you a summer of stress-free outdoor cooking.
The post 5 Outdoor Entertaining Tips to Amp Up Your Summer Parties appeared first on Freshome.com.
Apply Now